baverbach
biography
Musician, composer, trumpet, arranger, vocalist
Bard College BFA
20 years Austin, TX
10 years Port Aransas, TX
Currently in Charlotte, NC

CURRENT PROJECTS:
Austin Klezmorim
BAM-JAZZ
Carolina Klezmer Project
Klezmer Suite for Symphonic Band and Soliists

WEB SITES:
bam-jazz.com
bamusic.net
pickleville.net If you want a good kosher-style pickle...

WILL TRAVEL FOR $$$
WILL WORK FOR $$$

704-966-6873
SKYPE: baverbach
0

Just uploaded a new piece for all of you listeners. Enjoy.
It is better to have a violent reaction to a piece of music than none.
So get violent.
The piece is called Number 2
0

February 16th, 2010 + 8:02 PM
·

baverbach
I just posted some new pieces. As you may tell from the stuff it is not perfect and I don't want it to be. I feel that one problem with most recorded music is that it is not a recording of a performance but a collage of performances attached to one another.
Of course it is music but it is not a performance of music.
2

March 19th, 2012 + 8:03 PM
·

baverbach
A piece I wrote for orchestra about 3 years ago for a regional orchestra in the SE. They hated it! I love it. They couldn't play it.
2

October 10th, 2010 + 1:10 PM
·

baverbach
Here's a new piece. A suite of five pieces for concert band. Again it is computer generated and sound like crap but you can get an idea. It is laid out as a jewish wedding is often paced musicially. Processional, Recessional, Entertaining bride and groom, Family dance, and Party music.
3

Copyright 1979 Bill Averbach All Rights Reserved
This is a piece performed by Roomfull of People called Number 2.
Alex Coke, Steve Feld, Jay Rozen, Jeff Johnson, Horacio Rodriguez, Steve Schwelling, Bart Madeley, D'Jalma Garnier, Robert Atwood, Booka Michel, Bill Averbach, Rock Savage
Live on KUT FM, Austin Texas
7

August 23rd, 2010 + 2:08 AM
·

baverbach
This piece is a computer generated version of the Introduction to "The Awakening" a ballet.
14

February 16th, 2010 + 7:02 PM
·

baverbach
Written by Bill Averbach (c) 2009
Let's see....
I play trumpet with my computer generated rhythm tracks and recorded it on my computer using sonar 7 professional
Pretty simple.
Alias:
baverbach
Status: Offline
Threads:
13
Posts:
75
Songs:
12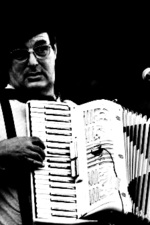 Joined: February 28th, 2007
Last login: March 19th, 2012
My Messengers
| | |
| --- | --- |
| AIM: | n/a |
| ICQ: | n/a |
| Skype: | baverbach |